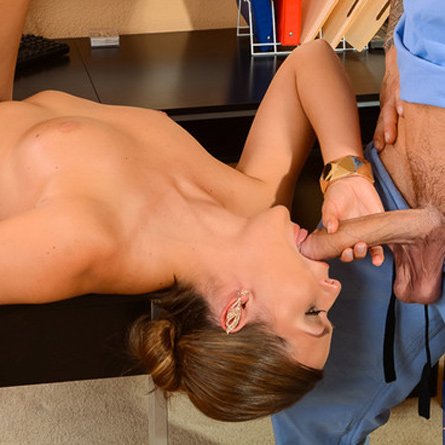 Abby Cross is a really hot pornstar babe, with a sexy tight body and some wonderful smaller firm tits. This girl is super sexy and very willing, and this scene from Naughty America includes some great action including an upside down deep throat / face fuck section that is pretty fucking intense. Check out the story:
Abby Cross works in a doctor's office, but all she ever thinks about is fucking the doctors she works with. She meets the new doctor on duty, Clover, and since everyone is out of the office she decides it would be a perfect time to live out her fantasy and take the new doctor's dick in her pussy.
Clover has a really big cock and Abby Cross is loving it, it's hard to get it balls deep but she is more than willing to try, and the finish is a somewhat unusual but very sexy stroke out creampie, with his load of cum going all over her pussy. Very sexy stuff!